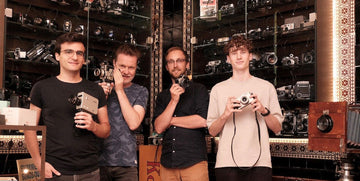 Impressum
Legal provider identification

click & surr
befife GmbH
represented by the managing director Jürgen W. Lossau
Gartenstraße 4
10115 Berlin, Deutschland
www.clickundsurr.de

T +49 (0)30 5165 7165
E-mail  info@clickundsurr.de
HRB 69746 B Amtsgericht Berlin-Charlottenburg
VAT ID
DE 198 252 810
Complaints office of the company
E-mail  info@clickundsurr.de
Legal information on the website
All texts, images and information published here are subject to the copyright of the provider, unless third-party copyrights exist. In any case, duplication, distribution or public reproduction is only permitted with the revocable and non-transferable consent of the provider.
Shop Berlin
click & surr
Gartenstraße 410115 Berlin, Germany
Shop opening times
Tue – Sat: 11:00 a.m. – 7:00 p.m
All trademarks used are registered trademarks of their respective owners.